Delta Dental of Kansas News
Delta Dental of Kansas Receives Six National Awards
April 29, 2022 —
Delta Dental of Kansas has received six national awards in the 20th Annual American Business Awards®. The company and individuals will be recognized at an event in New York City in June. The awards are as follows:
Achievement in Management
Company of the Year – Insurance
Most Innovative Company of the Year
Marketing Team of the Year
Marketing Campaign of the Year
Human Resources Executive of the Year
"Our amazing employees work hard every day to achieve excellence in everything we do. These awards simply would not be possible without their incredible work and dedication. In addition, the incredible support and guidance of our Board of Directors has been critical as we have worked to innovate and transform every aspect of our company," said Dean Newton, President & CEO of Delta Dental of Kansas. "We are beyond excited about the great results our company and our employees continue to achieve."
Delta Dental of Kansas has a focus on creating value and producing successful outcomes for our clients through a focus on operational and innovation excellence, transformative technology, best-in-class service and culture transformation. We are guided by six core values that are the foundation of our success: we dream big; we strive for excellence in everything we do; we earn customer trust & loyalty every single day; we put the user first – their needs drive our innovative solutions; we strive to be inclusive, curious and collaborate; and we care about and support our community.
The American Business Awards are the U.S.A.'s premier business awards program and recognize high-achieving companies and executives around the world. More than 230 professionals worldwide participated in the judging process to select this year's winners.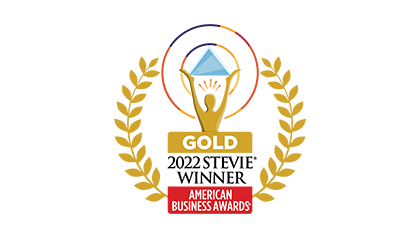 Delta Dental of Kansas Named No. 1 Healthiest Employer
March 25, 2022 —
Delta Dental of Kansas (DDKS) is honored to be named the top 2022 Healthiest Employer by the Business Journal in our company size category. Healthiest Employers honors businesses that make health and wellness a priority at their companies. Healthiest Employers assesses organizations on their wellness program's culture and leadership commitment, foundational components, strategic planning, communication and marketing, programming and interventions, and reporting and analysis.
"Our health and wellness program is more than just a program, it's a wellness culture," said Dean Newton, President & CEO of Delta Dental of Kansas. "If you want a high-performing company and great results, you need healthy employees. Healthier employees lead to happier, more engaged employees, a more productive and innovative workforce and greater business success. As a result, we strive to create an environment that promotes health and wellness and a positive work-life balance where our employees are inspired and empowered to take responsibility for their health. I am exceptionally proud of our employee-led Health and Wellness Committee for their ongoing efforts to improve health, culture, morale, and engagement in our company. We invest in our amazing employees because they are the foundation of our success and critical to achieving our mission to ensure everyone has access to affordable healthcare."
DDKS has a dedicated Health & Wellness Committee with representation from all departments. This team organizes unique wellness events and initiatives throughout the year that keep employees motivated and excited about their health. Our multi-faceted approach includes fitness and wellness challenges, onsite biometric and health screenings, online wellness resources, healthy cooking seminars, health and wellness lunch and learns, community volunteer opportunities, community leader town halls and many other activities to enhance employee wellness, connection, and engagement. We also provide digital resources that employees use on a daily basis.
In addition to ongoing initiatives, we encourage physical activity with our on-site fitness center and walking paths outside our offices. Wellness and engagement is encouraged through our wellness room, healthy snack options, volunteer and gift matching program, financial wellness services, and hybrid work schedule. We provide opportunities for team building and physical activity as well as mental health resources such as our employee assistance program (EAP) to support our employees. Several times a year we volunteer together to benefit our community and the people we serve.
"I'm excited to see participation in our wellness program increase. Our employee satisfaction scores are more than double the national average. I believe those results are in direct correlation to the amazing work our Health & Wellness Committee does to engage our employees in our wellness program," said Jennifer Bauer, Chief People & Strategy Officer at Delta Dental of Kansas.
Delta Dental of Kansas is proud to be named the top Healthiest Employer. We applaud all the Healthiest Employers honorees for their commitment to their employees' health and wellbeing.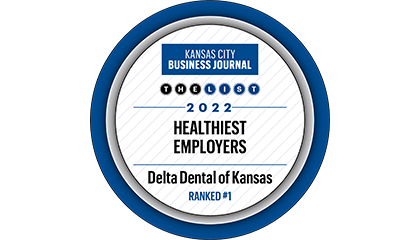 About Delta Dental of Kansas
Our mission is to expand healthcare access for everyone by offering affordable, consumer-focused benefits, reduced healthcare costs and exceptional service to employers and individuals. Our focus has led to an industry-leading 98%+ satisfaction rating among consumers, employers and brokers as measured by an independent third party.
The foundation of our success is our incredible employees who work hard every day to provide exceptional service to our stakeholders. We strive to provide a positive company culture through employee empowerment, transparent communication, encouraged collaboration, a focus on overall wellbeing, and connection opportunities. Our employee satisfaction (NPS) is double the national average and we have been recognized nationally and locally as a Best Places to Work.


Giving Back
As a not-for-profit corporation, we strive to advance oral health care, dental health and access. Over the past 10 years, Delta Dental of Kansas has given more than $10 million back to the communities we serve.


Join Our Team
Interested in joining our team? Learn more about a career at Delta Dental of Kansas.